Frequently Asked Questions
Get the lowdown on the Quayside Hotel.
There are so many places to stay in South Devon and we want you to be sure that the Quayside Hotel is the right one for you. Here are some of the questions we commonly get asked, if you can't find what you're looking for here please don't hesitate to get in touch. We'd be happy to answer any queries you may have.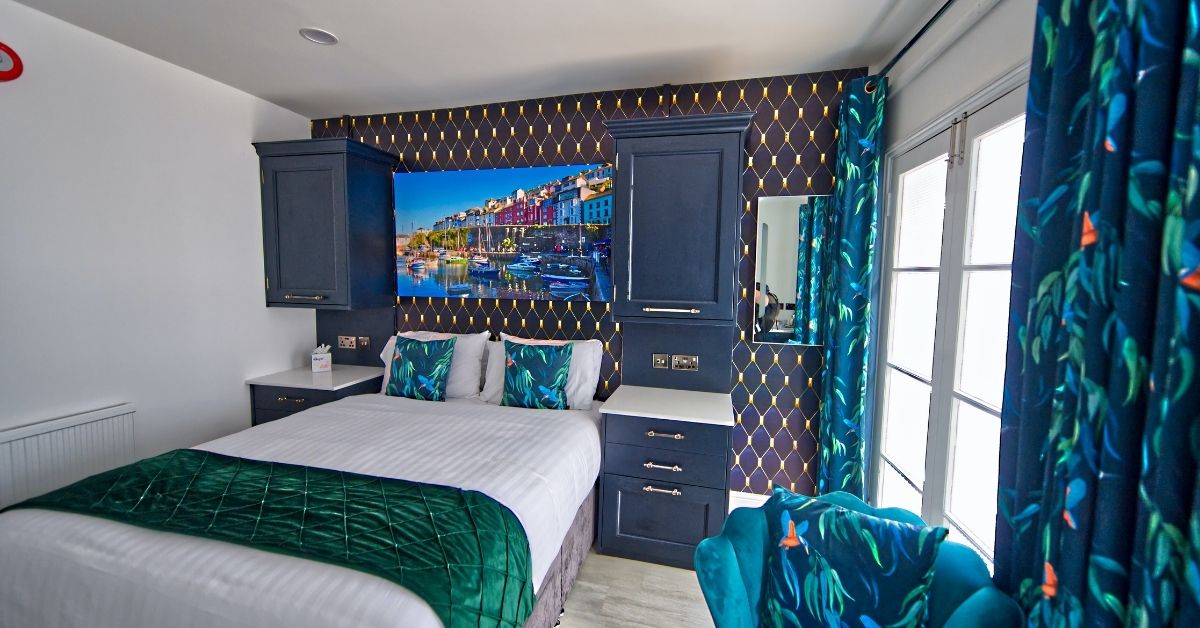 What time can guests check in and check out at the Quayside Hotel, Brixham?
Check-ins are from 14:00 and check-out is at 11.00. We are more than happy to look after your luggage if you should arrive earlier than 14:00.
Do you have a lift?
Being an older building we do not have an elevator. Instead, we have lots and lots of stairs! If this is an issue please do let us know at the time of booking.
Is there air conditioning?
No, we don't have air conditioning anywhere in the hotel.
Is breakfast included in your rates?
Yes, breakfast is included in all of our rates.
Do you have Wi-Fi?
Yes, there is complimentary high-speed WiFi available throughout the hotel.
What time is breakfast served?
Breakfast is served in the Main Restaurant from 08:00 – 10:00.
Is there a car park at the Quayside Hotel?
Our private car park is located 300 metres from the hotel. After registering your car, we will provide directions. The car park barrier requires an access card to gain entry, which is obtained from reception at check-in. To open the barrier to the car park, hold the access card over the keypad reader. Our car park also has six electric charging points, please contact reception if you would like to charge your vehicle.
Do you have electric charging points?
Yes, our car park also has six electric charging points. Please contact reception if you would like to charge your vehicle.
Does the Quayside Hotel allow pets?
Sorry, but no pets are allowed.
Is there a restaurant at the Quayside Hotel, Brixham?
Yes, we have our Quayside Restaurant. Please check out our Restaurant page for more information and our sample menu. We also have a fantastic selection of restaurants, cafes, and bars in Brixham, and other closeby towns such as Paignton and Torquay.
Are you able to accommodate dietaries such as a vegan diet, gluten-free, and allergies?
Yes, we can accommodate all dietary requirements. Please let us know when you are booking your stay or dinner reservation at the Quayside Hotel so that we can add your requirements to your reservation details.
Do you have a bar?
Yes, we have the Ernie Lister bar which is located next door to the hotel. Our very well-stocked bar is available from 4 pm to 11 pm for residents. We have a good selection of local bottled ales, lagers, wines, spirits, cocktails, and soft drinks.
Are there restaurants and bars close to the hotel?
Brixham boasts a fantastic array of great eateries, please check out our local restaurant guide for further information.
Is it better to book directly with the hotel?
We do prefer guests to book through us directly, and that's why we offer the best rate guaranteed if you do. On average we pay around 20% commission to travel agents including booking.com and expedia.com. Sometimes adding an intermediary can be challenging, as we are not able to change/amend your booking directly. You'll need to call the travel agent if you wish to amend your stay.
What is the cancellation policy?
Rooms may be cancelled without charge provided 48 hours notice of cancellation is given. If cancelled within 48 hours of the arrival date, one night's accommodation will be charged at the pre-booked rate for Bed and Breakfast and 80% of the pre-booked rate for Dinner, Bed, and Breakfast.
How do I cancel my reservation if I've booked via a third party?
Please contact the company you booked with, they will be able to advise you of the terms and conditions of your booking and will make any permitted changes on your behalf.
What happens if I don't arrive?
If you fail to arrive on the day of your booking, the full room price will be charged. Please check the terms and conditions of the package you have booked for details of our cancellation policy.
Is there a minimum age requirement to reserve rooms?
Guests need to be 18 and over to reserve a room and to have a room for themselves. 
Are you family-friendly?
Yes, we have many rooms suitable for families travelling with young children. Please contact us to discuss.