The Best Beach in Brixham, Torbay
You may know Brixham as the busy fishing harbour in South Devon, but just a short walk from the picturesque town you'll find an abundance of beaches. 
Brixham, located in the English Riviera, has an array of stunning beaches with a mixture of sandy, shingle and pebble. Perfect for picnics, coastal walks, water sports, and for days out swimming in the sea.
We've handpicked our top 5 beaches in and around the town of Brixham. 
Brixham's Top Five Beaches
Breakwater Beach
Breakwater beach is one of the best award-winning beaches for beauty in the English Riviera. The popular shingle beach is a Blue Flag beach, has a Quality Coast Award and in addition has been recommended by the Good Beach Guide.
Facilities at the Breakwater include a car park, toilets, a shop and a cafe so it's a great beach to spend the day.
Breakwater beach is dog friendly during the winter but dogs are banned from May to September.
Fishcombe Cove
Located along the coast of Brixham is the spectacular Fishcombe Cove. This charming cove is surrounded by red cliffs on all sides and is a peaceful place to visit. 
The sheltered cliffs make this beach perfect for swimming and enjoying the beautiful scenery.
Fishcombe Cove is a shingle beach with rocks and cliffs. Facilities include toilets and a cafe at the top of the beach which is open during the summer months. The Freshwater car park is a 5-minute walk away. You'll also find Battery Gardens close by.
Fishcombe Cove beach is dog friendly all year round.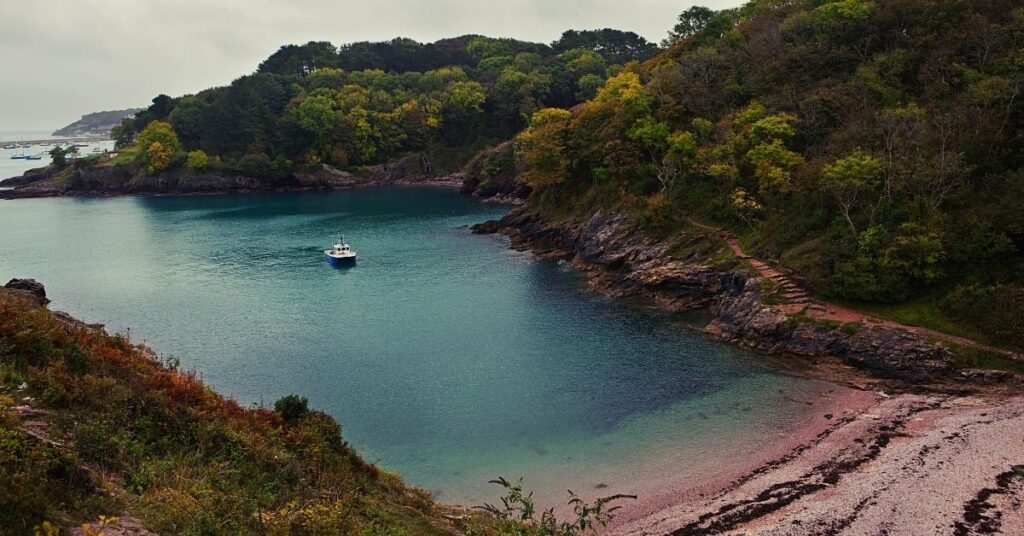 Scabbacombe Sands
Scabbacombe Sands is a small beach and usually very quiet, however, there are no facilities at this beach so arrive prepared with water and snacks. Parking is also located around 30 minutes away.
Scabbacombe beach is dog friendly all year round.
St Mary's Bay Beach
St Mary's is a secluded sandy beach (with some shingles) away from the hustle and bustle of Brixham. Surrounding the beach are rocks and cliffs.
There are no facilities on the beach, but just a short walk away you'll find Berry head and The Guardhouse Cafe. 
St Mary's Beach is dog friendly all year round.
Shoalstone Beach and Pool
A small shingle beach close to the centre and within walking distance of Brixham. There's no sand but instead, kids can enjoy the rock pools and marine life. 
Shoalstone is more widely known for its saltwater swimming pool which dates back to 1896. The pool is perfect for families with parking, and a cafe nearby.
Shoalstone beach is dog friendly all year round.
Frequently Asked Questions about Brixham Beaches
Does Brixham have a beach?
Yes, Brixham has a variety of different beaches including sandy, shingle and pebble.
Are there any sandy beaches in Brixham?
Brixham does have sandy beaches, including St Mary's Beach.
Are there any dog-friendly beaches in Brixham?
Yes, Brixham has many dog-friendly beaches including St Mary's Beach and Fishcombe Cove. Brixham is a very dog-friendly place to visit throughout the year.
Which is the best beach in Brixham?
The beaches in Brixham are all stunning in their own right, but our personal favourite is Breakwater Beach for its scenery, easy access and facilities.
Is Brixham worth visiting?
Brixham is a thriving town with something for everyone. From art and culture, amazing restaurants, stunning scenery, beaches to coastal walks, you'll never be bored in this bustling fishing town.
Summary of the Best Beaches in Brixham, Torbay, South Devon
Brixham is a large fishing town with a harbour and marina, and also has some of the best beaches in Devon. You could easily spend a week exploring all of the different beaches and coves, many with facilities to keep the entire family entertained.
If you're looking for a place to stay in Torbay, take a look at the Quayside Hotel located in the heart of Brixham.