A Guide to Devon's Waterfalls
Looking for the best waterfall in Devon? In this article, we've put together Devon's most stunning and picturesque waterfalls.
Waterfalls have a captivating beauty that draws people from all walks of life. Devon, a county in Southwest England, is renowned for its breathtaking landscapes and rich natural beauty.
Among its many natural wonders, Devon boasts an impressive collection of enchanting waterfalls that attract nature lovers and adventure seekers from near and far. From majestic cascades to hidden gems tucked away in lush woodlands, each waterfall in Devon is beautiful in its own right.
Whether it's the family-friendly charm of Becky Falls or the awe-inspiring grandeur of Speke's Mill Mouth waterfall, each waterfall provides a unique experience.
So, put on your walking shoes and get ready to explore some of the best waterfalls Devon has to offer.
The Best Waterfall in Devon
From the towering Canonteign Falls, the highest waterfall in Devon, to the hidden gems tucked away in Dartmoor National Park, there is something for every nature lover. Read on to find out which are our top six waterfalls to visit.
1. Watersmeet Waterfalls
Nestled within the picturesque valleys of the Exmoor National Park, Watersmeet Waterfalls is a true gem of Devon. As the East Lyn River cascades down a series of rocky ledges, it creates a mesmerising spectacle that delights the senses.
The lush green surroundings and the soothing sound of rushing water make this waterfall an ideal spot for relaxation and tranquillity.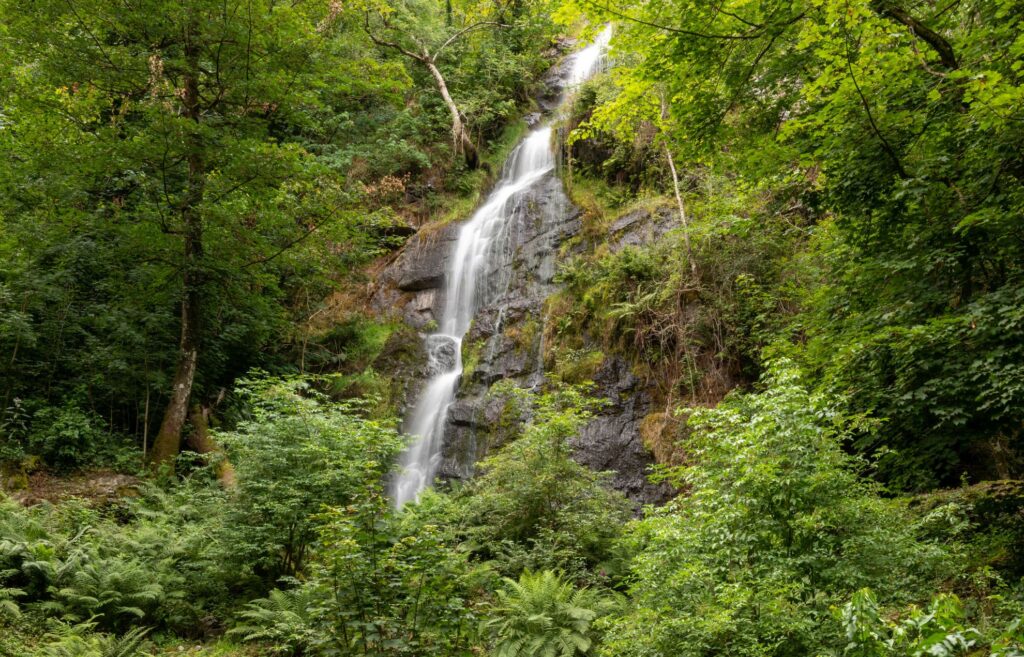 2. Lydford Gorge Waterfall
Prepare to be awe-struck by the spectacular Lydford Gorge Waterfall near the village of Lydford. The steep but rewarding circular walk takes you to the 30-metre-high Whitelady waterfall deep in the gorge.
The moderately challenging route takes an average of 3 h 45 min to complete and is very popular with walkers and hikers.
3. Canonteign Falls
Canonteign Falls is located within the Canonteign Estate near the village of Christow on the eastern edge of Dartmoor National Park. It is considered one of the most magnificent natural attractions in the region.
The main waterfall has a total drop of around 70 meters (230 feet), making it the highest waterfall in Devon, and was created in 1890 by diverting a stream over the edge of a cliff. It is surrounded by beautiful woodland and offers stunning views, making it a popular destination for visitors and nature enthusiasts.
4. Becky Falls
Nestled amidst ancient woodlands, Becky Falls is a must-visit destination for nature enthusiasts. This picturesque waterfall, located on the edge of Dartmoor National Park, showcases the untouched beauty of Devon's wilderness.
Follow the winding trails, witness the cascading waters of Becky Falls, and be enchanted by the natural wonders that await around every corner.
5. Tarr Steps Waterfall
Tarr Steps Waterfall, situated on the River Barle in Exmoor, offers a unique and enchanting experience. The picturesque stone clapper bridge, dating back to prehistoric times, adds a touch of historical charm to the surroundings.
Whether you are a seasoned hiker or someone who enjoys a leisurely walk, Tarr Steps is an excellent destination for those seeking to discover the wonders of Exmoor National Park.
You can take the long circular hike from Dulverton to Tarr Steps (12 miles) or walk down a 400m path to the Tarr Steps Bridge from the car park.
6. Speke's Mill Mouth
Situated on the Hartland Peninsula along the North Devon coast, Speke's Mill Mouth waterfall is a picturesque natural attraction. The waterfall plunges approximately 50 meters (164 feet) down a rocky cliff into a rocky cove, creating a stunning display of cascading water.
The area surrounding Speke's Mill Mouth is also known for its rugged beauty, coastal cliffs, and scenic coastal walks. It is a popular spot for nature lovers, hikers, and photographers seeking to capture the beauty of the North Devon coastline.
Accessibility & Safety When Visiting A Waterfall in Devon
While Devon's waterfalls offer a captivating experience, it's crucial to consider accessibility and safety. Some waterfalls may require walking or hiking along uneven terrain, so it's advisable to wear appropriate footwear and be mindful of your physical abilities.
Always follow designated paths and respect any safety signs or guidelines provided at each location. It's also recommended to inform someone about your plans and carry essential supplies such as water, snacks, and a first aid kit.
Best Waterfall in Devon Summary
Devon's best waterfalls offer a captivating blend of natural beauty, tranquillity, and adventure. Whether you're an avid hiker, a nature lover, or simply seeking a serene escape, Devon's waterfalls will not disappoint. From the thundering Lydford Gorge Waterfall to the hidden treasures of Watersmeet, these cascading wonders are a testament to the awe-inspiring power of nature.
These are our favourite waterfall walks in Devon. Book direct with us at the Quayside Hotel in Brixham for the best rates during your South Devon getaway.
FAQs about the Best Waterfall in Devon
What is the highest waterfall in Devon?
The highest waterfall in Devon is Canonteign Falls.
How long is Canonteign Falls?
Canonteign Falls has a total drop of approximately 70 meters (230 feet).
Does Dartmoor have waterfalls?
Yes, Dartmoor does have waterfalls. While Dartmoor National Park is more known for its rugged landscapes, granite tors, and open moorland, there are indeed several waterfalls within the park. Some waterfalls in Dartmoor include Becky Falls, Canonteign Falls, and Venford Falls.
How many waterfalls are in Dartmoor?
There are several waterfalls in Dartmoor, but it is difficult to provide an exact number as they can vary in size and some may be seasonal.
Which is better Becky Falls or Canonteign Falls?
Both Becky Falls and Canonteign Falls are unique and offer their own distinct charms.
Becky Falls, located on the eastern edge of Dartmoor National Park, is known for its natural beauty and tranquil surroundings. It offers a more intimate and immersive experience, with several walking trails that allow visitors to explore the woodland, discover wildlife, and enjoy the cascading falls up close. 

On the other hand, Canonteign Falls, situated near the village of Christow, boasts the title of the highest waterfall in Devon. It offers a more dramatic and grandiose sight, with a total drop of approximately 70 meters (230 feet). The falls are set within the Canonteign Estate, surrounded by beautiful woodland and gardens.
Related Articles:
The Most Spectacular Waterfalls In Dartmoor And South Devon