Dog-Friendly Activities in Devon
Looking for things to do in Devon with a dog?
Devon, located in the southwestern part of the UK, is a stunning county known for its picturesque landscapes, charming villages, and rich history. The region offers an abundance of activities and attractions for visitors, including those who are accompanied by their furry friends. 
Devon is a very dog-friendly part of the UK with many families bringing their pet friends for a holiday or weekend staycation. Bars, restaurants, and shops are geared up for dogs, with many providing water bowls and treats.
In this article, we'll explore the best things to do in Devon with a dog. As a family with a four-legged companion, we know it can be a challenge finding days out so we've ensured these activities are memorable and enjoyable for everyone.
Things to Do in South Devon with a Dog
Torbay and South Devon boast a range of pet-friendly attractions where your dog can join in on the fun. Here are a few recommendations.
Paignton Pier
Paignton Pier is a vibrant hub of entertainment and excitement, and dogs are welcome to explore the pier alongside their owners.
Enjoy a leisurely walk along the waterfront, play classic arcade games, or indulge in some traditional fish and chips while taking in the picturesque views of the coastline. A perfect activity for the whole family.
Tavistock Pannier Market
Tavistock Pannier Market is a vibrant indoor market where you can find a variety of goods, including fresh produce, arts and crafts, and antiques. Well-behaved dogs are welcome to join you as you browse through the stalls, but it's important to keep them on a leash and be mindful of other shoppers.
Babbacombe Model Village
Babbacombe Model Village is a miniature world that showcases intricate and detailed scaled-down replicas of buildings, landscapes, and people. This enchanting village allows visitors to immerse themselves in a tiny world filled with imagination and wonder. Explore the streets, marvel at the tiny houses, and appreciate the meticulous craftsmanship and witty humour. It's a delightful experience for the whole family, including your furry friend.
The Golden Hind
The Golden Hind, located in the centre of Brixham in the harbour, is a full-size replica of Sir Francis Drakes's Golden Hind. This famous ship was the first ship to sail around the globe and has now become a museum. Small dogs on leads are allowed on the ship.
Related: Best Things to Do in Brixham With Dogs
South Devon Railway
The South Devon Railway is a fantastic heritage railway that takes you on a journey back in time. Hop aboard a beautifully restored steam train and chug through the stunning South Devon countryside from Buckfastleigh to Totnes. It's a nostalgic experience that transports you to a bygone era. 
Dartmouth Steam Railway and River Cruises
The Dartmouth Steam Railway and river cruises are dog friendly and the perfect activity for the entire family. The steam train rides between Paignton and Kingswear and the boat trips run along the River Dart from Dartmouth to Totnes. Take in all of the beautiful views of Dartmouth, Paignton and the surrounding areas of Torbay.
Coleton Fishacre
Coleton Fishacre gardens is a hidden gem located near Kingswear, Devon. This picturesque garden is a delight for nature lovers, with its lush greenery, vibrant flowers, and breathtaking coastal views. Take a leisurely stroll along the winding paths, breathe in the fresh air, and let the tranquillity of the surroundings wash over you. A perfect retreat for peace and serenity with your pup.
Exploring Torbay's Trails and Parks
Torbay offers a variety of trails and parks that are perfect for dog owners seeking an outdoor adventure. Here are some options: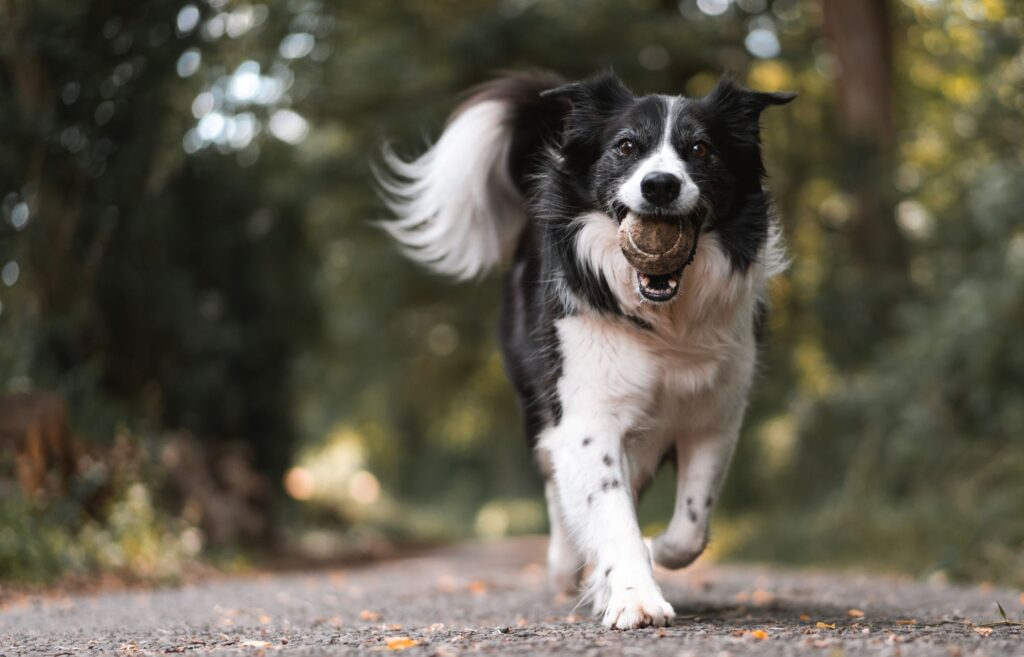 Berry Head Nature Reserve
Berry Head Nature Reserve is a scenic coastal area that welcomes dogs on leads. Explore the rugged cliffs, and grassy meadows, and enjoy panoramic views of the English Channel. With its diverse wildlife and captivating history, this reserve offers an enriching experience for both you and your canine companion.
Cockington Country Park
Cockington Country Park is a dog-friendly haven nestled in the heart of Torbay. This sprawling parkland boasts picturesque gardens, tranquil woodlands, and serene lakes. Take your furry friend on a leisurely stroll through the park, revelling in the natural beauty and stopping by the dog-friendly café for a well-deserved treat.
Related: Best Things To See & Do In Cockington
Canonteign Falls Waterfall
Canonteign Falls is located within the Canonteign Estate near the village of Christow on the eastern edge of Dartmoor National Park and is considered one of the most magnificent natural attractions in the region. The waterfall is the highest is Devon with a drop of 70 metres, and is surrounded by beautiful woodland and stunning views.
Related: 6 Best Waterfalls in Devon to Visit
Bicton Park Botanical Gardens
Situated between Sidmouth and Exmouth, Bicton Park Botanical Gardens is an award-winning world heritage place to visit. With its manicured lawns, exotic plants, and peaceful atmosphere, it's an ideal place to unwind with your dog by your side. The gardens are open to the public all year round.
Devon's Historic Sites to Visit with Dogs
Devon is steeped in history, and there are numerous historic sites that welcome dogs and offer a glimpse into the county's fascinating past. Here are some noteworthy attractions:
Torre Abbey
Torre Abbey is a historic landmark that welcomes dogs on leads in its beautiful gardens. Established in 1196, the popular landmark is a museum of history and art housed in an Ancient Scheduled Monument on the beautiful South Devon coast.
Take a stroll through the abbey's meticulously maintained grounds, soak in the tranquil atmosphere, and admire the stunning architecture. You can also explore the art galleries and exhibitions that showcase the region's rich cultural heritage.
Dartmouth Castle
Perched on the banks of the River Dart, Dartmouth Castle is a medieval fortress that has guarded the town for centuries. Take a leisurely stroll around the castle grounds with your furry companion and admire the breathtaking views of the estuary. Dogs are allowed on leads and can explore most outdoor areas.
Powderham Castle
Located beside the Exe estuary, just south of Exeter, Powderham Castle is a grand, picturesque country estate that dates back to the 14th century. Dogs are welcome as you explore the castle's beautiful grounds, including the ancient deer park and gardens.
Totnes Castle
Totnes Castle is a fascinating historical site nestled in the heart of Totnes, Devon. This ancient Norman castle stands proudly atop a hill, offering panoramic views of the surrounding area. Step back in time as you explore its ruins, climb its tower, and imagine the stories that unfolded within its walls. A must-visit for history buffs and castle enthusiasts!
Exploring Devon's Coastal Trails and the South West Coast Path with Dogs
One of the most appealing aspects of Devon is its breathtaking coastline, which stretches for miles, offering stunning vistas and scenic walks.
The South West Coast Path is a renowned long-distance trail that runs along the entire coastline of Devon. With its rugged cliffs, sandy beaches, and panoramic views, this path offers an unforgettable experience for both humans and dogs. Remember to keep your dog on a leash and clean up after them to preserve the natural beauty of the surroundings.
Dog-Friendly Beaches
Torbay is renowned for its breathtaking coastal beauty, and there are several dog-friendly beaches and walks where you can embrace the seaside charm. Here are a few recommendations:
Saunton Sands
Saunton Sands is another magnificent beach that welcomes dogs and provides a wonderful setting for a family day out. With its vast stretch of sandy shore, dunes, and rolling waves, it's an ideal spot for long walks, picnics, and even a game of fetch with your furry friend.
Goodrington Sands
Goodrington Sands is a fantastic destination for families and their furry friends. This dog-friendly beach offers a vast expanse of golden sand, crystal-clear waters, and even a designated dog exercise area. Enjoy a game of fetch, take a leisurely walk along the promenade, or simply relax and soak up the sun while your dog enjoys the sights and sounds.
Dawlish Warren Beach
Dawlish Warren Beach, near Teignmouth, is a dog-friendly beach where your furry companion can enjoy running freely and splashing in the waves. It's important to note that some areas have seasonal restrictions, so be sure to check the signage and guidelines before visiting.
Related: 5 Best Beaches In Teignmouth
Babbacombe Beach
Babbacombe Beach is a delightful spot where your dog can enjoy the sand, sea, and sunshine alongside the whole family. This small, shingle beach provides a tranquil setting for leisurely walks, beach games, and even a refreshing swim. Make sure to check the local regulations and signage for any restrictions.
Related: 10 Best Things to Do in Babbacombe
Conclusion about Things to Do in Devon with a Dog
We hope this guide has given you some great furiendly ideas for your Devon getaway! Devon is a remarkable destination for dog owners, offering a wealth of activities, beautiful landscapes, and warm hospitality.
From exploring coastal trails and embracing nature in parks to delving into the county's rich history and enjoying vibrant markets, there's something for every dog and their human companion to enjoy.
So pack your bags, grab your furry friend, and embark on an unforgettable adventure in Devon.
If you're looking for a place to stay in Torbay, take a look at the Quayside Hotel located in Brixham. The hotel is located on the harbourside close to all of the main attractions, beaches, shops, and restaurants. 
FAQs about Things to Do in Devon with a Dog
Can I bring my dog to all beaches in Devon?
Yes, some beaches in Devon are dog-friendly year-round, while others have restrictions during certain months. It's advisable to check the local guidelines and signage before visiting a specific beach.
Are there any dog-friendly accommodation options in Devon?
Absolutely! Devon offers a wide range of dog-friendly accommodations, including hotels, cottages, and campsites. Many establishments provide facilities and amenities to ensure a comfortable stay for both you and your furry companion.
Are dogs allowed in pubs and restaurants in Devon?
While many pubs and restaurants in Devon may allow dogs, it's always best to check with the establishment beforehand. Many places have designated dog-friendly areas or outdoor seating where you can enjoy a meal with your canine friend.
Can I take my dog on public transport in Devon?
Yes, dogs are generally allowed on public transport in Devon. However, there may be specific rules and regulations depending on the mode of transport. It's advisable to check with the respective transport providers for more information.
What are some popular dog-friendly hiking trails in Devon?
Devon offers a plethora of scenic hiking trails that welcome dogs. Some popular options include the Exmoor National Park, Dartmoor National Park, and the Tamar Valley Area of Outstanding Natural Beauty. Always ensure you follow the designated paths and keep your dog under control.
Are dogs allowed in Paignton Zoo?
Unfortunately, dogs are not permitted in Paignton Zoo, with the exception of registered assistance dogs.
Related Articles:
Dog-Friendly Activities in Torbay: Things to Do in Devon with a Dog