Seaton Things to Do For Adults & Kids
Seaton, a small seaside town and fishing harbour located on the breathtaking Jurassic Coast, is a hidden gem in South Devon.
Whether you're looking for a relaxing beach day, an adventure on the Seaton Tramway, or a chance to explore the surrounding area, Seaton has something for everyone.
Join us as we dive into the 10 most exciting things to do in Seaton, and discover why this town is worth a visit.
Where is Seaton Located?
Seaton is situated on the stunning Jurassic Coast, a UNESCO World Heritage site renowned for its geological and natural beauty. This coastal town is surrounded by breathtaking views of the coast, river, and the picturesque village of Beer.
The mouth of the River Axe adds to the town's charm, creating a picturesque backdrop for outdoor enthusiasts and nature lovers. Additionally, the town's convenient location near other towns and attractions makes Seaton the perfect base for exploring the surrounding area.
Travelling to Seaton
Getting to Seaton is a breeze, thanks to its excellent accessibility by car, public transportation, and train.
If you're travelling by car, nearby towns and major roads provide convenient routes to Seaton. Public transportation, including buses, is also available for those who prefer not to drive, making Seaton easily accessible to visitors from nearby towns.
For those coming from further away, the nearby Axminster station offers direct train connections to other major cities, allowing for a seamless journey to Seaton.
Is Seaton Worth Visiting?
Without a doubt, Seaton is worth visiting for its natural beauty, outdoor activities, family-friendly attractions, and local towns nearby. Whether you're seeking breathtaking views, family days out, water sports, coastal walks, or local heritage, Seaton has it all.
10 Best Things to Do in Seaton
1. Seaton Beach
The town's pebble beach is perfect for a relaxing day by the sea. Swim, sunbathe, or take a leisurely stroll along the promenade.
The beachfront facilities include public toilets, beach huts, and picnic areas with easy accessibility and nearby car parks.
2. Seaton Tramway
This heritage tramway runs through the beautiful Axe Valley and provides a unique way to explore the area. The trams offer stunning views and are a fun way to learn about the local environment.
3. Seaton Wetlands
Seaton Wetlands is a stunning nature reserve for birdwatching and nature enthusiasts.
Approximately 4 kilometres of flat pathways and a wooden walkway meander through picturesque wetlands and reedy habitats, running alongside the Axe River, which serves as a habitat for a diverse range of wildlife.
Seaton Wetlands encompass three distinct Local Nature Reserves, namely Seaton Marshes, Black Hole Marsh, and Colyford Common.
4. The Underfleet
This is Seaton's main shopping area, featuring a mix of independent shops, cafes, and restaurants. It's a great place to explore and pick up some souvenirs.
5. Coastal Walk to Beer
If you're up for an outdoor adventure, the coastal walk from Seaton to the nearby village of Beer is a must-do. Lace up your hiking boots, grab your camera, and admire the beautiful scenery as you go.
Begin the coastal walk from the town centre of Seaton, following the South West Coast Path, marked by signposts along the way.
6. Cycling
Seaton has some great cycling routes, including the Axe Valley Cycleway, which follows the route of the old railway line and provides a pleasant ride through the countryside.
7. Beer Quarry Caves
Just a short drive from Seaton, you can explore these ancient underground caves.
The beer quarry caves hold great historical significance, as they were the site of quarrying beer stone, which was used in the construction of Westminster Abbey and other historical buildings.
Take a guided tour of the beer quarry caves, led by local experts, and learn all about the caves' history, geology, and the quarrying process.
Beer Quarry Caves is perfect for wet weather days.
8. Visit Lyme Regis
While visiting Seaton, take the opportunity to explore the nearby town of Lyme Regis, famous for its natural beauty, historic landmarks, and family fun activities.
Marvel at the iconic Lyme Bay, the surrounding cliffs, and the historic site of the Cobb, featured in the film "The French Lieutenant's Woman."
Discover the fossil-rich beach of the Jurassic Coast, perfect for fossil hunting, and don't forget to explore the artisan market, local shops, and galleries, where you can find unique souvenirs of your visit.
9. Crealy Theme Park
For a day of family fun, head to Crealy Theme Park, located near Seaton, offering a wide range of attractions, outdoor activities, and live entertainment.
Crealy Theme Park is perfect for thrill-seekers of all ages, with exhilarating roller coasters, water rides, and fun water features.
Visit the animal farm, where you can meet friendly farm animals, or explore the adventure playgrounds and outdoor activities, perfect for burning off some energy.
10. Visit Brixham
Another town you must visit is the harbourside town of Brixham, which is packed full of things to see and do for all ages.
Whether you're a couple looking for a day trip to wander around, grab some food, and chill on the beach, or a family looking to keep kids occupied with activities, Brixham has it all.
Planning Your Stay in Seaton
When planning your stay in Seaton, consider the various accommodation choices available, ensuring a comfortable and memorable visit.
Accommodation Choices in Seaton
Seaton offers a range of accommodation options, from seaside hotels offering breathtaking views of the coast, to cosy guesthouses and bed and breakfasts, perfect for a more personalized experience.
Families visiting Seaton can look for family-friendly accommodations, with amenities and activities catering to children. Additionally, self-catering options are available, perfect for longer stays or larger groups visiting the town.
For more accommodation choices, don't forget to explore nearby towns, expanding your options for a comfortable stay in the area.
At the Quayside Hotel in Brixham, we are perfectly located along the South coast of Devon to explore the nearby towns, villages and beaches.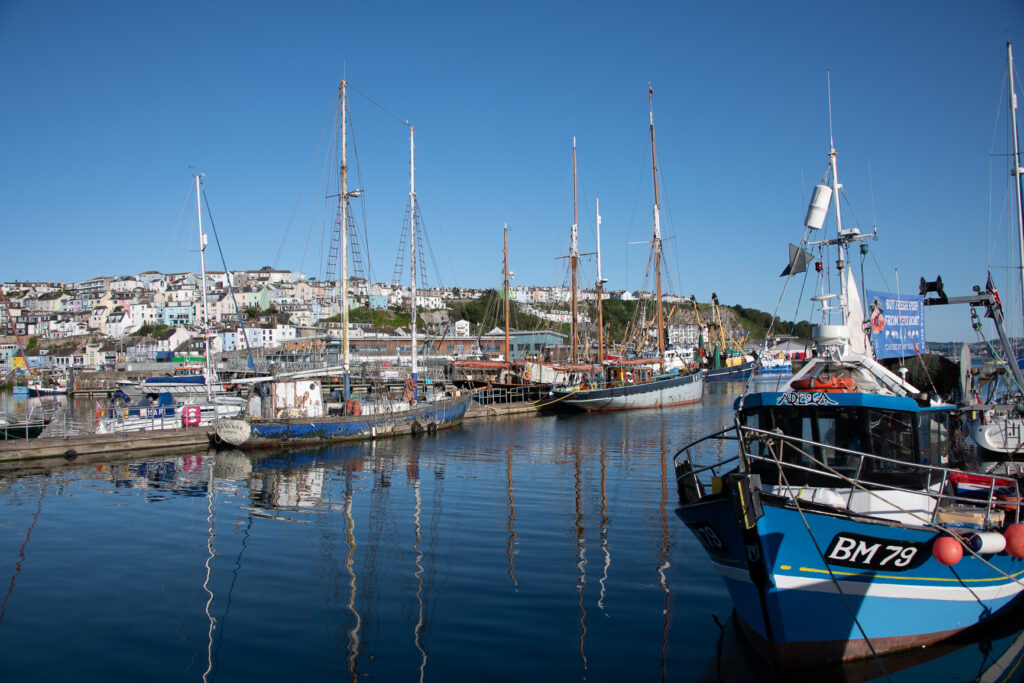 Dining Options in Seaton
From traditional British pubs serving local fare, to upscale restaurants offering fine dining experiences, Seaton has something for every food lover.
The Eyre Court Hotel offers a fine dining experience with locally sourced ingredients, while The Hideaway Cafe is the place to go for delicious homemade cakes and sandwiches. If you're looking for a more relaxed setting, The Malt House serves great pub food and local beers, perfect for a casual bite.
Frequently Asked Questions
What is Seaton known for?
Seaton is known for its natural beauty, outdoor activities, heritage, and local attractions. The town offers a long pebble beach, perfect for beach days and coastal walks, as well as access to the Seafield gardens and cliff field gardens, both offering breathtaking views of the coast path. Seaton Wetlands Nature Reserve, the Seaton hole, the River Axe Estuary, and nearby towns such as Lyme Regis and Sidmouth, add to the town's natural beauty and outdoor appeal. Additionally, Seaton is known for the beer quarry caves, part of the UNESCO World Heritage site, offering a glimpse into the town's heritage and local history.
Does Seaton have shops?
Yes, Seaton offers a great shopping experience, with a variety of local shops, boutiques, and market stalls. Visitors can explore the artisan market, local shops, and small businesses, perfect for finding unique souvenirs, local crafts, and artisan produce.
Can you walk from Beer to Seaton?
Yes, you can embark on the coastal walk from the picturesque village of beer to the town of Seaton, following the South West Coast Path. The coastal walk is approximately 2.5 miles long, taking about an hour to complete, and offers breathtaking views of the coast, river, and surrounding area. As you hike the coastal path, don't forget to wear appropriate footwear, check the tide times, and immerse yourself in the natural beauty of the area.
Summary of Things to Do in Seaton
Hopefully, this guide has given you some great ideas on things to do in Seaton. Whether you're planning a day trip, a weekend getaway, or a longer vacation, Seaton is the perfect place to visit.
If you're looking for accommodation nearby, take a look at the Quayside Hotel located in Brixham. The hotel is the perfect location for a Devon getaway.
Related Articles: