Stoke Fleming Things to Do
Are you planning a trip to Stoke Fleming? This beautiful spot in Devon has something for everyone. From exploring the nearby beaches of the coastal village to indulging in the local food, visiting the local towns, and enjoying outdoor activities, there's never a dull moment here.
In this post, we have compiled a list of the top 10 things to do in Stoke Fleming. While it may not be as bustling as larger towns and cities, there are still plenty of things to see and do in and around Stoke Fleming.
Where is Stoke Fleming?
Stoke Fleming is a picturesque village located in the South Hams district of South Devon, England. It is situated on the southern coast of Devon, near the town of Dartmouth.
What is There to Do in Stoke Fleming?
Stoke Fleming, a coastal village situated along the shores of Start Bay, is just a short three-mile drive from Dartmouth.
Perched on top of the cliffs and nestled within an Area of Outstanding Natural Beauty, this village offers breathtaking panoramic vistas of one of the most stunning coastal stretches in the United Kingdom.
For those who love the beach, the award-winning Blackpool Sands is within walking distance, and there are more picturesque beaches along the bay and the coast towards Salcombe, all easily accessible by car.
As you venture inland, you'll encounter rolling hills, meandering lanes, woodlands, babbling streams, and serene pastures.
Stoke Fleming boasts a range of amenities, including a village pub, the Radius 7 restaurant, a cafe-restaurant, a shop at Blackpool Sands, a post office, a church, and a primary school.
Just a 10-minute drive away, Dartmouth offers a wealth of conveniences, from shops and cafes to restaurants, river excursions, boat rentals, and angling opportunities.
For outdoor lovers, the South Devon Coast Path runs through the parish, and on the parish's edge lies Woodlands Leisure Park, featuring attractions suitable for the whole family. 
Accommodation options are vast and include hotels, guesthouses, bed and breakfasts, self-catering accommodations, as well as caravan and camping parks.
What Can Families Do For Fun?
Looking for family fun in Stoke Fleming?
Explore the stunning beaches and coastline, engage in outdoor adventures like hiking and biking, visit attractions such as Dartmouth Castle and Greenway Estate, and enjoy water sports and beach activities.
10 Things to Do in Stoke Fleming
1. Blackpool Sands Beach
This Blue Flag beach is just a short distance from Stoke Fleming and offers a lovely spot for swimming, sunbathing, and watersports. It's perfect for a relaxing day by the sea.
2. Coastal Walks
Explore the South West Coast Path, which passes through Stoke Fleming. Enjoy scenic walks along the rugged coastline and take in breathtaking views of the English Channel.
3. Dartmouth Castle
Located across the Dart Estuary, Dartmouth Castle is a historical site with stunning views and a rich history. You can reach it by taking a ferry from Dartmouth.
4. Dartmouth
This charming town is just a short drive away and offers a range of attractions, including Dartmouth Harbour, boutique shops, and fantastic dining options. Don't forget to explore its historic streets and perhaps take a boat trip on the River Dart.
Related:
5. Greenway Estate
This National Trust property was once the holiday home of Agatha Christie. You can visit the house and its beautiful gardens while enjoying the stunning views of the river.
6. Stoke Fleming Village Green
Take a leisurely stroll around the village green, which is at the heart of Stoke Fleming. It's a peaceful place to relax and enjoy the local atmosphere.
7. Golf
If you're a golfer, you can try out the Dartmouth Golf and Country Club, which offers a beautiful course with scenic views.
8. Dine at Kendricks
Grab a bite to eat at Kendricks. The popular restaurant serves delicious pizza, small plates, local beers and ciders. 
Whether looking for a quick bite to eat or a gathering with friends and family, this is a place for any occasion. Reservations and takeaway pre-orders can be made through the website.
9. A Day Trip to Totnes
Indulge in Totnes' rich history, vibrant atmosphere, historic landmarks, and engaging activities, discovering its unique character near Stoke Fleming.
Related: 21+ Best Things to Do in Totnes
10. Visit Brixham
Brixham, a beautiful harbourside town, is packed full of things to see and do for all ages. Whether you're a couple looking for a day trip to wander around, grab some food, and chill on the beach or a family looking to keep kids occupied with activities, Brixham has it all. 
Related: 37 Best Things to Do in Brixham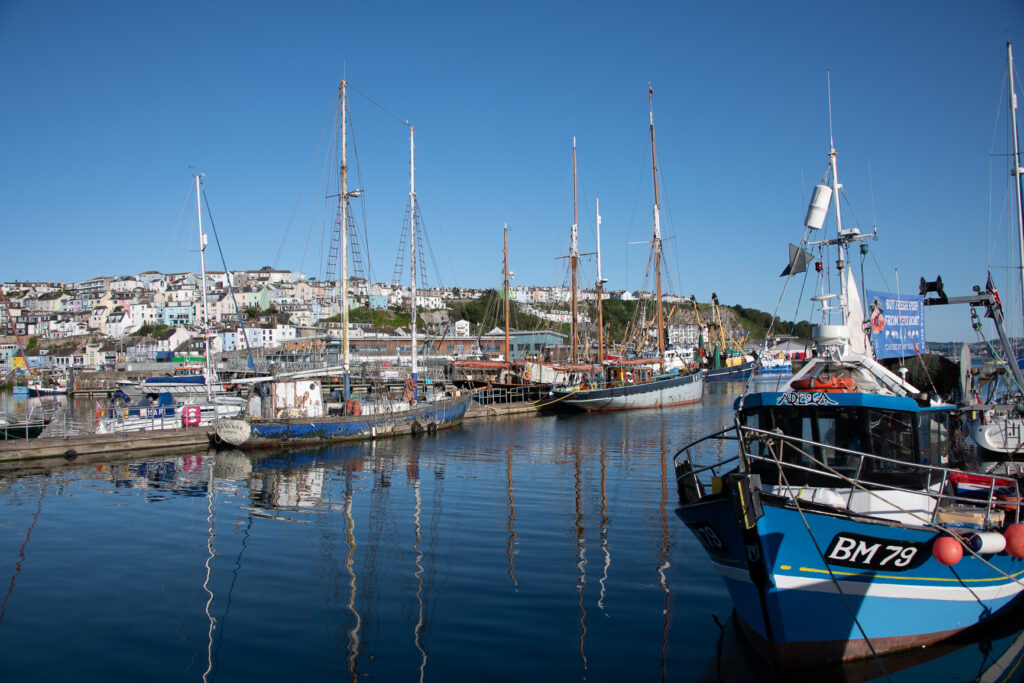 Summary of Things to Do in Stoke Fleming
Hopefully this guide has given you some great ideas on things to do in Stoke Fleming. The village is a beautiful place to visit for the day, or use as a quiet base to explore Torbay and South Devon.
If you're looking for accommodation near by, take a look at the Quayside Hotel located in Brixham. The hotel is the perfect location for a Devon getaway.
Related Articles: