What to do in Torquay When It's Raining
Looking for things to do in Torquay when it's raining?
While the coastal town of Torquay in South Devon is best known for its sunny beaches and outdoor activities, there are plenty of indoor attractions and experiences that are just as fun – come rain or shine.
In this article, we've put together our favourite activities and things to do, regardless of the rain and bad British weather.
So, grab your raincoat and discover some of the best rainy day indoor activities in Torquay.
Related: What To Do On a Wet Day in Brixham
9 Things To Do In Torquay When It's Raining
1. Discover the World of Kents Cavern
Located in Torquay, Kents Cavern is one of the most significant prehistoric cave systems in the UK. The cave tour takes you on a fascinating journey through time, as you explore the geology, archaeology, and history of the area.
A guided tour takes approximately two hours and is the perfect activity for the whole family.
2. Challenge Yourself at the HQ Escape Rooms
If you're looking for a thrilling indoor activity that will challenge your mind and test your problem-solving skills, then visit the HQ Escape Rooms in Torquay.
This interactive experience will transport you to a different world, where you'll have to work together with your team to solve puzzles, decipher clues, and escape before time runs out.
3. Explore the Riviera International Centre
Located in Torquay, the Riviera International Centre is a world-class leisure and conference centre that offers a range of indoor activities.
From swimming and water slides to a fully equipped gym and spa, the centre has something for everyone. There are also several restaurants and cafes to choose from, so head for a dip and grab a bite to eat afterwards.
4. Visit Torquay Museum
If you're interested in history and culture, the Torquay Museum is a must-visit attraction. It's home to a vast collection of exhibits that showcase the history of the area, including displays on the famous author Agatha Christie who lived in Torquay.
There is also a unique exhibition of Ancient Egyptian mummies, making it a perfect indoor activity for a rainy day.
5. Enjoy a Round of Indoor Mini Golf
Paignton Pier offers a unique indoor mini-golf course that is perfect for all ages. The 18-hole course is themed around the history of the pier and is a fun activity for the whole family.
Related: Best Things To Do In Paignton
6. Take a Trip to the Cinema
If you're in the mood for some cinematic entertainment, head to Vue Cinema in Paignton. With the latest blockbusters and a range of refreshments, it is an excellent place to spend a rainy day indoors.
7. Indulge in Afternoon Tea
When it's pouring rain outside and you're looking for a cosy indoor activity, there's nothing better than enjoying a traditional afternoon tea. Indulge in a selection of finger sandwiches, scones with jam and clotted cream, and an assortment of delicate pastries and cakes.
Most cafes and tea rooms serve a Devon cream tea, but if you're after the full works, try the Grand Hotel, Belgrave Sands or Imperial in Torquay.
8. Babbacombe Theatre
Stay out of the rain and book a ticket to the Babbacombe theatre. The theatre has been around since the 1930s and is renowned for its highly acclaimed shows, with new shows constantly being added.
Related: 10 Best Things To Do In Babbacombe
9. Cockington Court Craft Centre
Sat in the heart of Cockington is the historic manor house Cockington Court. This 17th-century manor house goes back to medieval times, and Cockington Court has now become a centre for arts and crafts.
In the craft centre, you can find all sorts of handmade goods such as leather goods, ceramics, jewellery, glass-blown items, and paintings. The craft centre also has a selection of various other shops, such as the Cockington Chocolate Company which has an incredible array of artisan chocolates to purchase.
Related: Best Things To See & Do In Cockington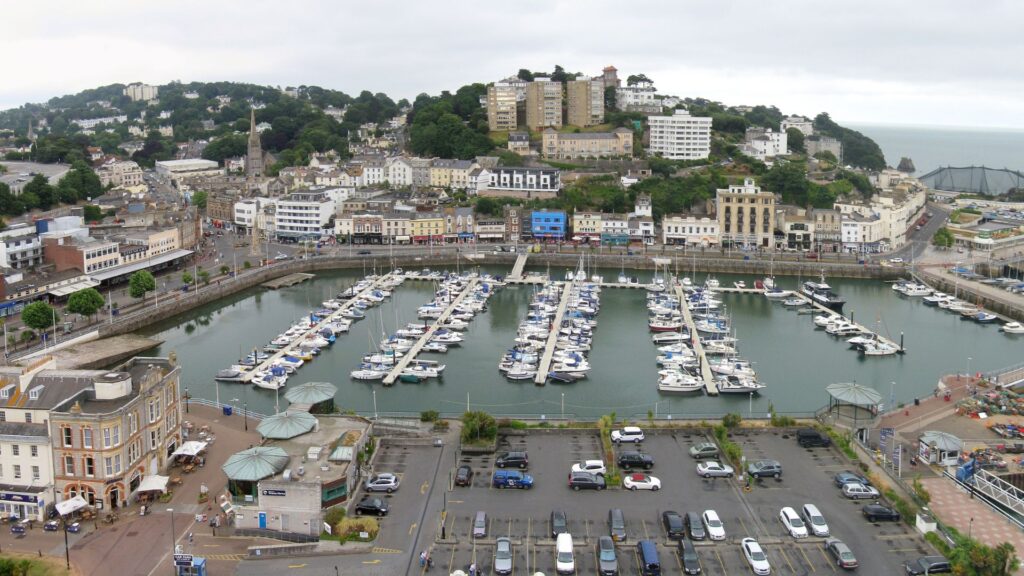 Summary of Things To Do In Torquay When Raining
We hope you found our guide on the best things to do on a rainy day in Torquay helpful. From indoor mini-golf to prehistoric caves and world-class leisure centres, there is plenty to keep you entertained, no matter what the weather is like outside.
So, the next time it rains, don't let it dampen your spirits – head out and explore the fantastic indoor attractions in this beautiful part of South Devon.
If you're searching for a hotel near Torquay, take a look at the Quayside Hotel in Brixham. The Quayside Hotel is located on the harbourside with stunning sea views and is close to all of the main shops, restaurants, and bars.
Related Torquay Articles:
Things To Do In Torquay When Raining