13 Best Things to Do on a Rainy Day Indoors in Brixham, Torbay, South Devon
Wondering what to do on a rainy day in Brixham? We know that the British weather can bring plenty of gloomy-looking days, especially as we go into the colder months too, but that doesn't mean the fun needs to stop!
There's plenty to do on a wet day in Brixham, especially when you want to stay warm and dry.
Some people like going for a walk in the rain, and discovering all that the English Riviera coastline has to offer. And if you have the right equipment and good waterproofs it can be fun to tackle the elements.
There are plenty of spots for muddy puddle rambles in the countryside or windswept coastal walks. Just pick a route, get outside, and explore.
But if you prefer to escape the rain and find some more sheltered activities, we've got you covered. There's so much to do around Brixham that a rainy day can be a good opportunity to visit some wonderful places.
Grab your raincoats and discover some of the best things to do when it rains in the beautiful fishing town of Brixham.
Related: 9 Best Things To Do In Torquay When It's Raining
You may also be interested in reading:
13 Things to Do When It's Raining in Brixham
1. Visit the Brixham Battery Heritage Centre
Museums make the perfect rainy day activity, and Brixham has some fascinating history to learn about.
The Brixham Battery Heritage Centre is a hidden gem located next to the battery gardens.
Run by a group of volunteers, their aim is to restore the Brixham coastal defence Battery built in 1940 and to provide on-site information to the general public and other organisations. Dogs on a lead are also welcome.
2. Take a Tour of the Brixham Fish Market
Take the rare opportunity to get a fascinating insight into behind-the-scenes operations at England's largest fish market.
With the tour starting at 06:20 and finishing with a seafood breakfast in The Rockfish at 08:00, you'll get a look into how the entire operation works. From the daily fish auction process, learn everything there is to know about the trawlers and discover how fish gets from the sea to our plates.
There's only a handful of tour dates throughout the season, and spaces fill up fast so book early to avoid disappointment. Take a look at the tour dates here.
3. Stop for a Cosy Hot Chocolate
With so many independent coffee shops and cafes around Brixham, choosing somewhere to go is the hard part. From Curious Kitchen serving fit-for-a-king hot chocolates to Chocella to the appropriately nautical-themed Brixham Steam Packet Company and Chart Room, they're all excellent.
Whichever you choose, they're all worth visiting for a hot chocolate and a homemade sweet treat when the weather is miserable.
4. Step Back in Time at Lupton House
Lupton House is a Grade II* building on the outskirts of Brixham. Once an old empty school, with gardens, and woods, a group of local people vowed to breathe life back into this spectacular building.
Open to the public nowadays it can be used for weddings and events, or to visit The Coach House Cafe and admire the beautiful architecture and Italian garden to the south of the estate.
The perfect place to escape the rain and soak up a little English history!
5. Admire the Art at Strand Art Gallery
Located in the heart of Brixham's harbourside, The Strand Art Gallery is a wonderful way to spend a couple of hours sheltering from the miserable weather.
Here you'll find works by the likes of W H Hockman, Gordon Allen, and David Deakins, alongside a range of modern artists. The gallery specialises in fine art paintings focusing on marine art and local Devon landscapes.
6. Go Shopping
Shelter yourself from the rain with an afternoon of retail therapy.
Brixham is home to a whole host of boutique shops where you can find a plethora of items. Retailers sell everything from cakes and groceries, to hand-crafted gifts and jewellery, to home accessories and clothes.
Just take a brolly when walking from shop to shop!
7. Eat Fish and Chips
Visiting Brixham and not eating fish and chips is against the rules here, and luckily there are plenty of places to eat inside.
You can't miss The Rockfish which is located next door to the busy Fish Market. Serving traditional fish and chips, and daily freshly caught specials, there's a good reason it's a popular spot. Simply Fish is another excellent choice, located alongside the harbour.
8. Keep Kids Entertained at an Indoor Soft Play Area
There are not many parents who find it trickier than trying to entertain small kids on a rainy day, Luckily there's lots of things to do in Brixham for kids.
Especially if the kids are full of energy and need to burn it off. Indoor soft play areas are the perfect antidote, as the kids can run riot in padded safety while you supervise with a coffee closeby!
Wizz Kidz, located in Brixham, is 5,000 sq ft of pure fun with a football pitch, rock climbing wall, toddler zone, and a café to keep an eye on your kids wherever they are.
9. Learn at the Brixham Heritage Museum
Discover Brixham's maritime history in this little gem. Free to attend and founded in 1958, this is a great spot to learn about the town's past and view key objects from the years.
Learn more about the museum here.
10. Bring Out the Board Games
On a family or couple's holiday, you can't go wrong with Monopoly, Connect Four, or Sorry. The perfect activity to keep everyone occupied and laughing for a couple of hours.
Pack your own, or many hotels such as the Quayside Hotel have a whole host of board games for guests to enjoy.
11. Stay Cosy in Self-Catered Accommodation
Of course, no matter the weather, staying cosy indoors is always a relaxing option on holiday. At the Quayside Hotel, we offer self-catered accommodation where you can stay warm and dry indoors all day, with all the facilities you need (and more).
Read more information about our Quayside Apartment here.
12. Board the Golden Hind
Exploring the Golden Hind on a wet day is the perfect activity. It would be hard to walk through the town and not notice the large pirate ship in the middle of the harbour, sitting next to the Old Markethouse.
The life-size ship is a replica of the boat Sir Frances Drake used to sail around the globe in 1577. Board the ship and you'll learn exactly what life was like onboard during the famous voyage.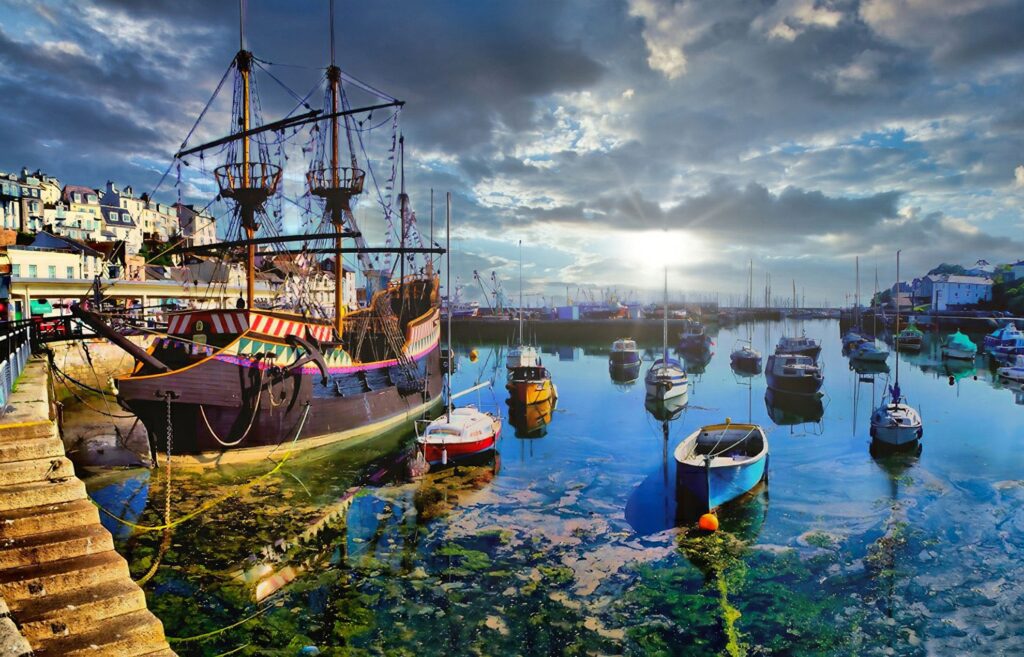 13. Sail Away from it All
Even on a rainy day in Brixham, you can explore the English Riviera in comfort.
Take the ever-popular Western Lady Ferry Service which carries passengers under cover multiple times a day from the New Pier in Brixham, right into the centre of Torquay.
Dogs are welcome on board and are free to travel.
Or take a pleasure cruise and head along the River Dart to explore beyond Torbay and the English Riviera.
You can book your tickets at the office around Brixham Harbour. Boat trips and times may differ according to weather and tidal conditions.
Summary of What to Do on a Rainy Day Indoors in Brixham
Stormy weather doesn't have to stop the fun. Even if your outdoor plans have been cancelled, you can still find plenty of fun rainy day activities to do inside. Keep this list of what to do when in rains in Brixham in your pocket for the next drizzly day.
Whether you're visiting Brixham for a weekend staycation or a week-long UK getaway, the Quayside Hotel is the ideal place to stay. You'll be within walking distance of all the main attractions beaches and restaurants. See our best rates here.
Related Articles: