Teignmouth Things to Do
Nestled on the stunning coast of South Devon, Teignmouth is a quaint town that offers a wealth of attractions and activities. Its beautiful sandy beaches, historic Georgian buildings, and friendly community make it an ideal destination for a summer staycation.
Whether you're seeking relaxation, adventure, or cultural experiences, Teignmouth has something for the entire family.
In this article, we'll explore the top attractions, activities and the best things to do in Teignmouth.
Where is Teignmouth?
Teignmouth, located in the county of Devon, is a charming seaside town and fishing port. Situated on the northern bank of the River Teign estuary, it is approximately 12 miles south of Exeter. According to the 2011 census, the town had a population of 14,749 residents.
What is Teignmouth Known For?
Teignmouth is renowned for its breathtaking coastal beauty, making it a sought-after destination for year-round holidays in South Devon, England.
This charming estuary town boasts two stunning beaches, picturesque Georgian buildings, a vibrant arts quarter showcasing numerous exhibits and galleries, a convenient mainline railway station, and a welcoming local community. Don't miss the opportunity to visit the iconic Teignmouth Pier and experience the unique charm of this coastal gem.
What is There to Do In Teignmouth?
Teignmouth offers a wide range of activities and attractions, making it the perfect family holiday destination. With its sandy beaches, Victorian Pier, lido, play park, and crazy golf, there's plenty to keep the kids entertained.
The town itself boasts beautiful Georgian buildings and a charming high street, ideal for a spot of shopping. Teignmouth is also a haven for food enthusiasts, with its renowned seafood and gastronomic trail showcasing local delights.
The town hosts various events throughout the year, including classical music and poetry festivals, a lively folk festival, and vibrant carnivals and regattas.
Delve into the history of Teignmouth at the Teign Heritage Centre, and don't miss the opportunity to explore the picturesque village of Shaldon across the river. Whether you're seeking relaxation, outdoor adventures, or cultural experiences, Teignmouth has it all.
Best Things to Do in Teignmouth
1. Teignmouth to Dawlish Railway Walk
The Teignmouth to Dawlish Railway Walk is a scenic and delightful trail that takes you on a journey through the stunning coastal landscapes of South Devon. Starting from Teignmouth, the walk follows the route of the railway line, offering panoramic views of the sea, cliffs, and charming towns along the way.
2. Visit the Teignmouth Beaches
Teignmouth has two main beaches. Teignmouth Town Beach is a long sandy beach and Teignmouth River Beach is a more traditional fishing beach.
The Town Beach is located in the heart of the town and offers stunning views of the coast. It's perfect for families with children, as it offers clean and safe bathing waters, and has various amenities such as beachside cafes and shops, toilets, and a play area.
For more information about beaches in Teignmouth and close by, take a look at our article: 5 Best Beaches In Teignmouth.
3. Teignmouth Grand Pier
For a quintessential British seaside experience, a visit to the Grand Pier is a must. The pier offers panoramic views of the coast and serves as a hub of activity. Enjoy a leisurely stroll, enjoy the traditional attractions, amusements, and grab a delicious ice cream while taking in the scenic beauty of the town.
4. South West Coast Path
Teignmouth sits on the South West Coast Path. This stunning coastal trail is an overwhelming 630 miles long, leading from Minehead in Somerset to Poole Harbour in Dorset.
You can either walk point to point or enjoy an array of circular walks which you can find at the local tourist information centre.
5. Dartmoor National Park
Teignmouth's location provides easy access to the magnificent Dartmoor National Park. Embark on a day trip to this stunning moorland, with rugged landscapes, granite tors, and roaming ponies.
Explore ancient ruins, hike scenic trails, ride along the cycle routes, or simply revel in the tranquillity of nature.
6. Teign Heritage Centre
To delve into the rich history of Teignmouth, a visit to the Teign Heritage Centre is highly recommended. Led by volunteers, this fascinating museum showcases the town's maritime past, including its involvement in the shipbuilding and fishing industries.
Explore exhibits that highlight the town's heritage and gain insights into the lives of its residents throughout the centuries.
7. Watersports at Teignmouth Beach
Feeling adventurous? Teignmouth Beach offers more than just sunbathing and building sandcastles. Adventure enthusiasts can engage in various watersports such as kayaking, paddleboarding, and windsurfing.
With favourable wind conditions and clear waters, watersports provide an exhilarating playground for those seeking an adrenaline rush.
8. Boat Trips from Teignmouth Harbour
Discover the beauty of the coastal town by embarking on a leisurely boat trip from Teignmouth Harbour. Sit back and relax as you glide along the tranquil waters, taking in the picturesque scenery and spotting wildlife along the way.
9. Catch the Ferry From Teignmouth to Shaldon
Take the historic ferry over to the pretty fishing village of Shaldon. Shaldon has many great places to eat along with a family-friendly beach.
Situated across the River Teign from Teignmouth, Shaldon offers stunning views, a charming atmosphere, and a historic smugglers' tunnel which is well worth a visit.
10. Teignmouth Railway
The Teignmouth Railway offers a scenic and nostalgic journey through the stunning landscapes of South Devon. Hop on a train, choose your destination, and traverse the picturesque route that runs alongside the coast, offering panoramic views of the sea and countryside.
11. Teignmouth Pavillions
Teignmouth Pavilions is a fantastic arts centre venue in Teignmouth that provides a wide range of local events and screenings, perfect for entertaining children on those less sunny days.
With regular cinema showings and child-friendly events throughout the year, the pavilion offers a fun and enjoyable experience for families.
12. Food and Drink in Dartmouth
The popular coastal town boasts a vibrant culinary scene that showcases the best of local and international flavours. Sample fresh seafood dishes at waterfront restaurants, savour homemade treats at cosy tearooms, or unwind with a pint of locally brewed ale at a traditional pub.
13. Visit the Local Surrounding Areas
The South of Devon and the coastal towns surrounding Teignmouth are some of the most beautiful places in the UK. If you're staying in Teignmouth, spent time exploring Torbay and other nearby areas. Take a look at some of our guides on things to do and where to visit: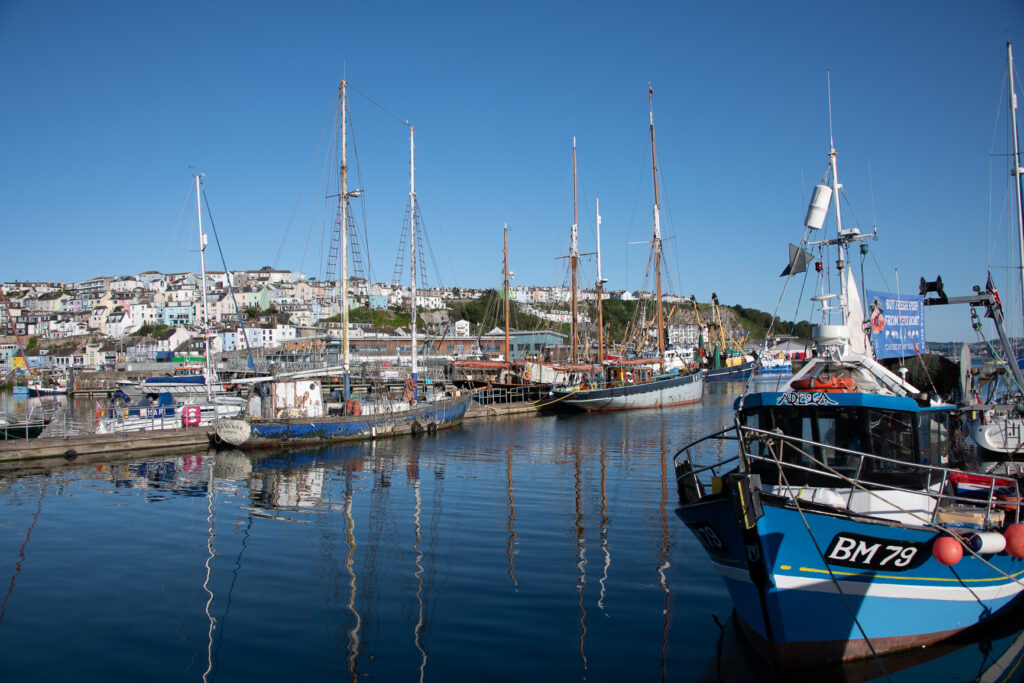 Summary of Things to Do in Teignmouth
We hope you enjoyed our guide on the best things to do in Teignmouth. The coastal town, with its idyllic coastal charm, rich history, and abundance of activities, is ideal for couples, and families of all ages. Whether you seek relaxation, adventure, or cultural exploration, Teignmouth has it all.
If you're looking for accommodation close to Teignmouth, take a close at the Quayside Hotel in Brixham. Located on the South Coast of Devon in Torbay, Brixham is a 45-minute drive away.
FAQs about Things to Do in Teignmouth
Is Teignmouth a good place to live?
Teignmouth is a wonderful place to live. With its beautiful coastal location, friendly community, and range of amenities, it offers a high quality of life. The town has a vibrant atmosphere, rich history, and stunning natural surroundings, making it a desirable place to call home in the UK.
What is Teignmouth known for?
Teignmouth is known for its stunning beaches, picturesque coastline, and rich maritime history. It offers a vibrant atmosphere, charming architecture, and a range of attractions. Teignmouth is also famous for its watersports, friendly community, and is a gateway to exploring the natural beauty of South Devon.
Which is better Exmouth or Teignmouth?
Both Exmouth and Teignmouth are beautiful coastal towns in South Devon, UK. The better choice depends on your preferences. Exmouth has a larger beach and is great for water sports, while Teignmouth offers a charming atmosphere, rich history, and a variety of attractions. Visit both if you can!
Is Teignmouth worth visiting?
Teignmouth is definitely worth visiting! With its stunning beaches, rich history, and vibrant atmosphere, this charming coastal town in South Devon, UK, offers something for everyone. Whether you're seeking relaxation, adventure, or cultural experiences, Teignmouth has it all.
Are dogs allowed on Teignmouth's beaches?
Dogs are allowed on some of Teignmouth's beaches but may be restricted during certain times of the year. It's advisable to check the local regulations and guidelines before visiting with your furry friend.
Can I access Teignmouth easily from other parts of the UK?
Teignmouth is well-connected by road and rail, making it easily accessible from major cities and towns in the UK. The town also has good public transport links within the local area.
Are there accommodations available in Teignmouth?
Yes, Teignmouth offers a variety of accommodations, including hotels, guesthouses, self-catering cottages, and holiday parks. There is something to suit every budget and preference.
What is the best time to visit Teignmouth?
The summer months (June to August) are the most popular due to the warm weather and vibrant atmosphere. However, Teignmouth's charm can be enjoyed year-round, and each season has its own unique appeal.
Is Teignmouth a family-friendly destination?
Absolutely! Teignmouth offers a wide range of family-friendly activities, including sandy beaches, activities and outdoor adventures suitable for all ages.
Related Articles:
Things to Do in Teignmouth, South Devon