Best Things to Do in Bigbury-on-Sea for Adults and Kids
Bigbury-on-Sea is a beautiful coastal village in Devon, England, known for its stunning beaches, scenic landscapes, and outdoor activities.
In this article, we've put together a list of the best things to do in Bigbury-on-Sea.
Where is Bigbury-on-Sea?
Bigbury-on-Sea is a coastal village located in the South Hams district of Devon, England.
It's situated on the southern coast of Devon, overlooking the English Channel and the beautiful Bigbury Bay. This area is known for its stunning beaches and scenic coastal views, making it a popular destination for tourists and beachgoers.
Now, let's jump into the list.
Things to Do in Bigbury-on-Sea
1. Visit Bigbury Beach
The main attraction in Bigbury-on-Sea is its sandy beach, perfect for sunbathing, swimming, and building sandcastles. It also offers great views of Burgh Island.
2. Burgh Island
Take a walk across the sandy causeway to Burgh Island at low tide or ride the unique sea tractor at high tide. The island is famous for its art deco hotel, which has hosted famous guests like Agatha Christie.
Note: Remember to check local regulations and tide times when planning your activities in Bigbury-on-Sea, as the tides can significantly affect your experience, especially when visiting Burgh Island.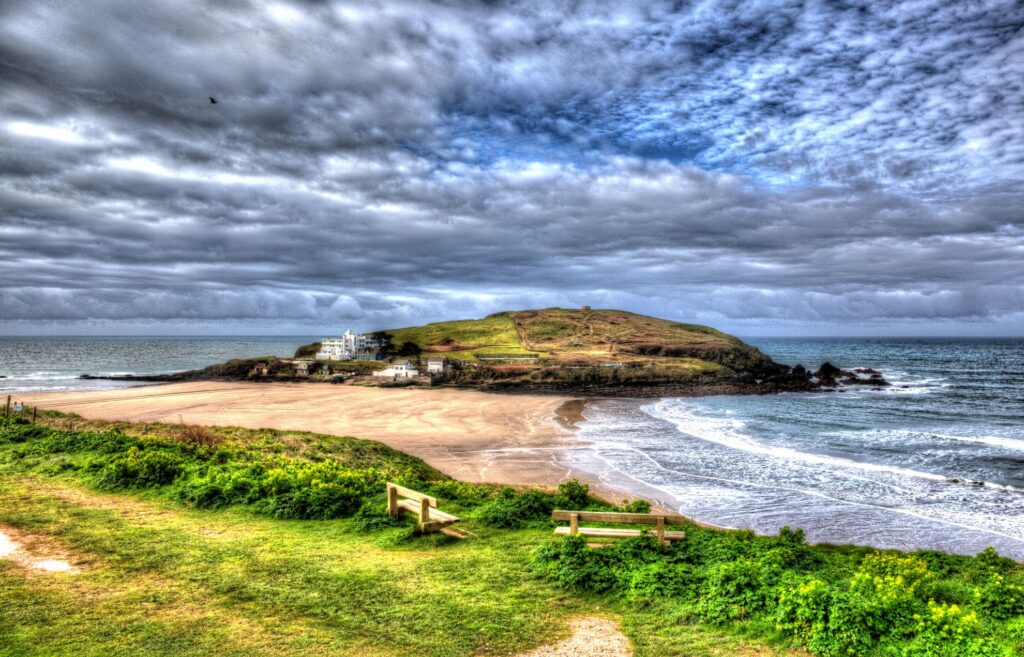 3. Watersports
Enjoy watersports like windsurfing, paddleboarding, and kayaking. You can rent equipment locally and explore the beautiful coastline from the water.
4. South West Coast Path
Bigbury-on-Sea is located on the South West Coast Path, making it an excellent destination for hiking enthusiasts. Enjoy scenic walks along the coastline with breathtaking views.
5. Play Golf
Play a round of golf at the Bigbury Golf Club, which offers stunning sea views as you tee off.
6. Explore the Rock Pools
At low tide, explore the rock pools along the shorelines. They are full of fascinating marine life and provide entertainment for both kids and adults.
7. Birdwatching
Bigbury-on-Sea is located in a designated Area of Outstanding Natural Beauty. Birdwatchers can spot various species along the coastline and estuary.
8. Visit St. Lawrence's Church
Explore the historic St. Lawrence's Church, which dates back to the 11th century. It offers a glimpse into the village's rich history.
9. Tide Watch
Keep an eye on the tide times and experience the unique phenomenon of the sea tractor. It's a fun and memorable way to cross to Burgh Island.
10. Local Pubs and Restaurants
Enjoy local cuisine at the village's pubs and restaurants, offering fresh seafood and traditional British dishes.
11. Go Fishing
Try your hand at fishing off the beach or on the estuary. It's a relaxing and rewarding pastime.
12. Visit the Art Galleries
Explore local art galleries and studios that often showcase work inspired by the stunning coastal scenery.
13. Go for a Picnic
Pack a picnic and enjoy a meal on the beach or in one of the scenic spots in the village.
14. Sunset Watching
Bigbury-on-Sea offers spectacular sunsets over the sea. Find a quiet spot on the beach and watch the sun go down.
15. Explore the Local Area
Use Bigbury-on-Sea as a base to explore other nearby attractions like Salcombe, Plymouth, Dartmoor National Park, and more.
Local Guides and Things to Do:
Summary of Things to Do in Bigbury-on-Sea
We hope you enjoyed this guide on the best things to do in Bigbury-on-Sea.
If you're looking for accommodation nearby, take a look at the Quayside Hotel in Brixham. Our harbourside hotel is perfectly situated close to amenities, shops and the beach.
Related Articles and Things to Do:
Top Activities and Things to Do in Bigbury on Sea